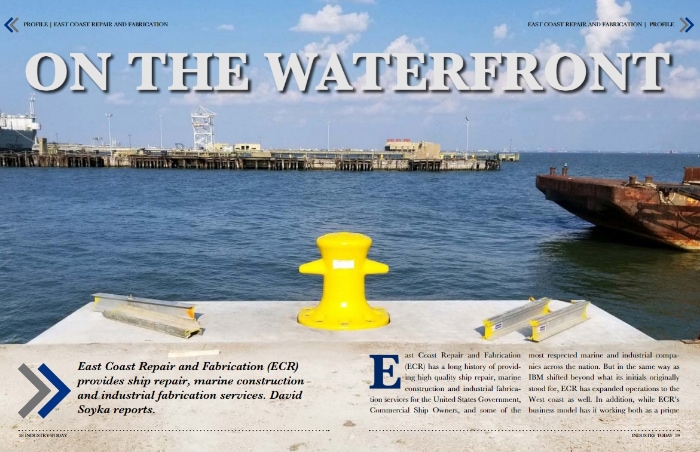 East Coast Repair and Fabrication (ECR) has a long history of providing high quality ship repair, marine construction and industrial fabrication services for the United States Government, Commercial Ship Owners, and some of the most respected marine and industrial companies across the nation. But in the same way as IBM shifted beyond what its initials originally stood for, ECR has expanded operations to the West coast as well. In addition, while ECR's business model has it working both as a prime contractor as well as a subcontractor, expanded capabilities and resources enable it to secure more contracts as the prime vendor. A $64.4 million investment at its operations in Newport News, Va. will enable ECR to accommodate an even broader and more diverse group of vessels as the only small business ship repair company with deep-water access in the state.
"Before joining ECR in early 2018 I had spent the previous eighteen years helping a ship repair company grow on the west coast," explains ECR President, Rene Doiron. "I saw a similar growth opportunity here. Owner Jorge Rivera established a great foundation for this company that we are building on to grow our quality services for both our government and commercial customers."
ECR started its roots in working as a subcontractor working primarily on U.S. Navy ships. "While we value and appreciate our partnerships when working for a prime contractor, the problem with being a subcontractor is that you are tied to the fate of another company," Doiron notes. "A significant percentage of the work that we do is as a prime contractor, but we want to be in the position where we are the masters of our own fate, in charge of our own destiny, so we are positioning ourselves to do more prime work."
ECR specializes in ship repair and construction as a full-service Marine Repair and Fabrication contractor, with both a Master Ship Repair Agreement (MSRA) and an Agreement for Boat Repair (APR) with the Navy. The company has several contracts in each port that allows it to pursue work with the Navy.
The company has maintained a facility in Portsmouth, Va. on some 13 acres with water access to over 1,000 feet of vessel/boat berthing space and lift capacity to accommodate vessels up to 250 feet in length, 56 feet wide with a depth of 15 feet. ECR also has a fully equipped 41,000 sq ft Machine & Fabrication facility based out of Jacksonville, Fla. A 2018 expansion saw ECR extend its reach to the Navy market in San Diego where it operates out of a shop in in Chula Vista, Calif.
Given the significant amount of work that takes place at the Navy bases, part of ECR's business model is going where the work is. ECR's Travel Teams are accustomed to going to different locations and can be dispatched quickly to meet its awarded project's demands,. Travel Teams are comprised of ECR's most experienced employees to ensure the highest quality work performed efficiently and in accordance with all governing directives. The company has earned a solid reputation for its customer service-oriented focus and regularly receives positive reviews.
Newport News Expansion
The next evolution in the ECR story is the transformation of waterfront property in Newport News that includes the rehabilitation of two 1000 foot long deep water piers and the construction of an industrial campus that includes new manufacturing capacity as well as corporate and administrative offices and warehouse space. Strategically located on the James River, which runs into the Chesapeake Bay which is accessible from the Atlantic Ocean, the facility can better accommodate deep draft vessels and provide a currently unavailable category of ship repair for both government and commercial contracts that otherwise would have to go elsewhere for service. The new facility will allow ECR to transform its company profile as it looks to work with a broader diverse group of vessel owners and operators, such as Military Sealift Command, MARAD, Crowley, Maersk, and other commercial vessel operators.
The project includes a new training center for the 332 new jobs the redevelopment is expected to create. "While we've been able to find the management talent we need, finding skilled front-line workers is a little more of a challenge," Doiron points out. "While on the one hand we're in an area where there's a native labor pool for the trades we need, it's also the case that because there are so many ship repair companies in the Hampton Roads market that we are all competing for that labor."
Doiron points to ECR's competitive salary and benefits, plus an inclusive work environment that ensures employees have full opportunity to reach their potential. "ECR is a privately owned business whose founder values family and people as individuals," he says. "We want to attract people that embrace development and growth to better position us for the challenges ahead". One of the company's value statements is about being bold, a characteristic that is found in the company's DNA. The ability to adapt, evolve, and chart its own course for success and endurance drives the company's strategic planning process.
To find the right people that fit ECR's culture, ECR recently hired an in-house recruiter, "We now have more direct and dedicated control over the recruiting process to more efficiently identify and attract talent," Doiron says.
During the COVID-19 crisis, ECR has stringently followed, if not exceeded all CDC guidelines. "The safety of our people is always paramount even under normal operating conditions," Doiron emphasizes. "Social distancing, masks, increased sanitization are all implemented throughout the workplace. In addition, about 30 percent of administrative and support functions are working remotely. We are finding that we're even more efficient and productive after instituting video conferencing as a central part of our operations. Our new ways of conducting meetings allows for a level of efficiency and collaboration that did not exist before. Going forward even after the pandemic passes, we're thinking that teleworking and our new meeting formats will continue as part of our 'new normal'."
Providing Best Value
While ECR is pursuing more commercial and industrial work, the government remains its primary customer. "A major benefit for us is that regardless of the economy or a pandemic, naval ships are on a regular maintenance schedule that must be adhered to," Doiron notes. "Contracts don't get cancelled; maintaining our national defense infrastructure is immune to other economic considerations."
One thing that is different of late is how the government awards contracts. "Historically the Navy has always awarded to the low-cost bidder," Doiron notes. "We are seeing that changing. Now, they have the flexibility to award the contractor that offers the best value, not necessarily at the lowest costs. Best value is determined by a number of factors—past successes, past practices, bench strength, capacity, level of risk."
He adds, "We're still considered a small company, at least by the definition of SBA rules. Yet we are able to offer best value services still at a low price that is highly competitive with a lot of larger marine repair companies. Being small actually works to our advantage—we're more flexible, more willing to put in the extra effort. With a culture that fosters individual initiative and growth, ECR as a company is going to continue to grow in handling exciting projects to help maintain the fleet of tomorrow while supporting operational readiness today."