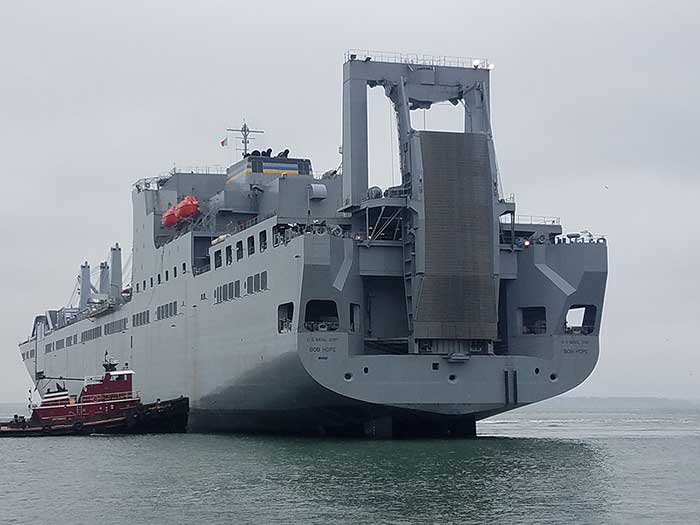 U.S. Marine Management is bringing the USNS Bob Hope to ECR for a 90 day repair period
Ship repairer East Coast Repair and Fabrication, which is based in the Hampton Roads area with operations in Jacksonville, Fla., and San Diego Calif., is rebranding as ECR and making moves to expand its capabilities.
Since its start-up in 1999, the company has focused primarily on building competence and capacity geared towards supporting the maintenance of the Navy's fleet. Last summer, though, ECR secured a facility in Newport News, Va., with the aim of offering its ship repair services to commercial vessel owners and operators. The 84 acre facility, located at the foot of the Monitor-Merrimac Memorial Bridge-Tunnel, includes two piers, one at 1,100 feet and one at 1,000 feet, and each with a water depth of 40 feet. This spring, the company also expanded its efforts in the commercial sector by acquiring a small commercial ship repair company and machine shop in Jacksonville, Fla., and establishing a Crane and Rigging company.
The culmination of ECR's recent business development efforts resulted in its winning its first ship repair contract award for performance the new facility. U.S. Marine Management, a private operator for a number of Military Sealift Command (MSC) vessels, will bring the USNS Bob Hope to ECR's facility for a 90 day period for some steel repair work. The vessel is the lead ship in MSC's class of vehicle cargo ships are used to preposition tanks, trucks and other wheeled vehicles and supplies.
"This is a monumental event for our company," says Rene Doiron, ECR's President. "We look forward to servicing a more broad and diverse group of vessel owners and operators in the region with our deep water piers. The opportunities to add future capabilities at the facility are abundant. We look forward to expanding our offerings as we continue to invest in our future."